ABOUT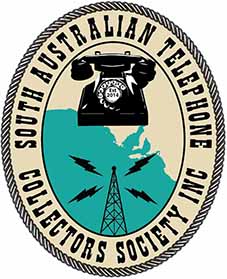 Adelaide Central is the WEB site of the South Australian Telephone Collectors Society Inc. (SATCS).
The SATCS aims to promote the study of, to record and to collect all aspects of our communications heritage. Our members' interests range from restoring early wooden sets to the preservation of electro-mechanical exchanges and the creation of computer controlled exchanges so that restored equipment may be connected across the Internet and used much as it was in the past. Pay telephones, telephone boxes and railway telephones are all part of the mix. Members come from all walks of life and share a common passion for our communications heritage.
The SATCS meets monthly so the members can catch up in a social environment. The meetings generally include an auction, a raffle, afternoon tea and plenty of opportunity to chat. The SATCS is a member of the STAA so each SATCS member receives the bi-monthly journal The Exchange in addition to the SATCS Journal, Adelaide Central. If you are interested in becoming a member of the SATCS or just visiting, telephone or email anyone on the list of contacts – you are most welcome.